For your eyes only.
A new way to look at a shelf
A place for your personal items or as a reminder.
More info
These annoying things: where do you leave your mobile, 
your keys and, and, for example, your identity card.
For all this stuff you want your one special place.                                      
Were it is safe and if possible not too messy.
Where only you can find it and you no longer have to search.

The beginning:
What can you do with something as simple as a shelf?
That was the question the designer set to work with.
Wanted to know if it was possible to add features.
without compromising the self-evidence of a shelf.
In the end, it did not become an anonymous repository.
But a very nice object for the home.
Of course, this is initially thought for on the wall.
Due to its shape and low weight, it is very easy to hang.
Recesses are provided for the supplied hooks.
The individual elements are stackable.

Each shelf comes with three tube vases for flower branches.
The user can adjust the decor according to his mood.
The secret:
Paul Bloemers was inspired by cabinets from the time of the Sun King.
Where cabinets were provided with many kinds of secret compartments.
James Bond 007 was also served as an inspiration.
Witness the title 4 your eyes only.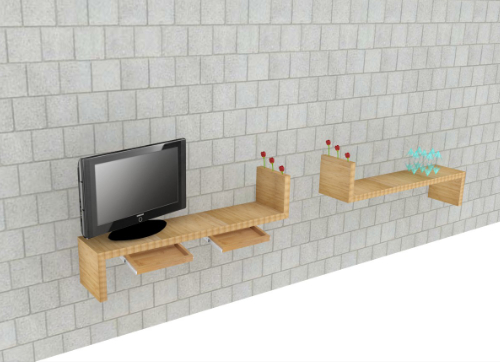 Delivery time: in consultation with the customer, normally 4 to 6 weeks
Of course also available online.
Easy to hang.
Due to its weight and shape, it is very strong and stable.
Version image L x D x H: 1200 x 350 x 330mm
Equipped with three glass tubes for flowers and a secret drawer.