Customized dining table, Arc series
More info
The Arc table is the most famous design by Bloooms. 
The style is characterized by the beveled edge in the leaf and the legs. 
On the short side, the legs and the rule are one piece. 
All this gives this design a special appearance. 
The Made-to-measure table is made of high-quality solid bamboo. 
Is twenty percent harder than oak? So very suitable for home and office. 
As the title indicates, Bloooms makes everything to measure. 
We deliver this customized table in

different versions

. 
All our products are finished with a combination of essential oil and
a nano coating based on silicon sand.
Both of these are environmentally friendly and very strong.
So we can rightly speak of sustainable investment.
Every piece of furniture is made in our own workshop. 
Has its own number and file. 
Of course, you can also get the Arc table extra long. 
From 240 cm the texture of the leaf is indeed transverse. 
You can see all this in our showroom. 
You can also order free samples from us.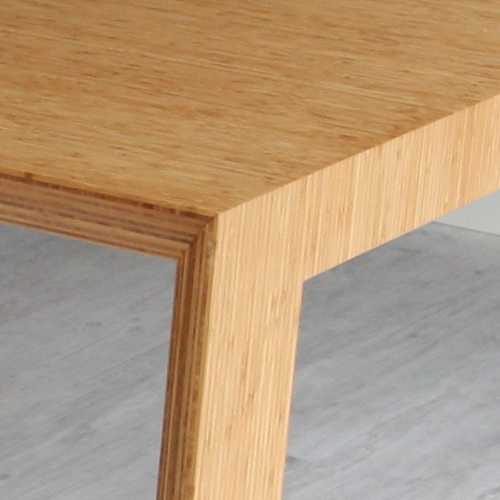 Our products are finished with a high-quality oil. 
This is environmentally friendly and very strong. 
In principle, the table requires little maintenance. 
A dry cloth is enough in most cases. 
We are happy to advise you about maintenance. 
Also, deliver various products in this area. 
Like our Soap, this ensures that the sheet is cleaned. 
Plus he gives the oil an extra protective layer. 
We always deliver in consultation with the customer. 
Normally we deliver between 4 and 8 weeks. 
This customized table is available in many versions. 
In various colors, sizes and for example with or without drawer (s). 
The series is divided into the 60 version and the 40 ("light") version. 
The latter makes the table more elegant. 
Is also very suitable desk chairs with it's 40 mm edge.

Bloooms is a company that likes to think along with architect and stylist.
An example of this is this "light" series.
But also the Arc Flexible Concept has arisen from this.
Bamboo is the deliberate choice for today's engaged consumer,

who wants quality combined with good taste and an ecological purchasing pattern.
Bloooms is the only furniture brand that connects its name to bamboo.
The material has a number of remarkable features.
It is not only beautiful to see but also: available in various colors and structures.