Bamboo design table, wings

From the mill series,
this version without 

drawers and has a floating top.
Less is more!
More info
Modern coffee table
A timeless design that originated in the mill table.
Square top made up of 8 elements placed in one
windmill blade shape.
4 leaves that together form the top with the legs in between.
An equally square plate can be placed in the center.
Of course in any suitable material.
The legs can be made of wood, bamboo, or steel.
Can be disassembled or fixed in one piece on request.
All our products are finished with high-quality oils.

Environmentally friendly and strong.
You can read more about this in specifications and experiences.
So we can rightly speak of sustainable investment.
At Bloooms everything is tailor-made.
Every Molen table is made in our own workshop.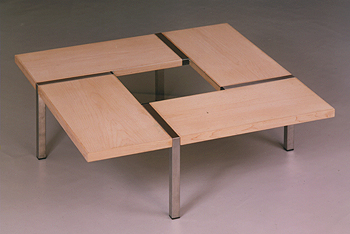 100 x 100 x 33cm 
Each bamboo design table has its own number and file.
We supply this table in different bamboo textures.
You can see all this in our showroom.
You can also order free samples from us for inspection.
We always deliver in consultation with the customer.